THE NEXT GENERATION OF
IMMERSIVE SIMULATION ROOMS
Gener8 Immersive suites provide a complete tailored solution from site surveys at inception all the way to persistent training and complete support. Our Gener8 family will always be on here to answer any questions you may have, at any stage of the rooms life. With our in-house and partnered software, you are able to have complete control over your environments and simulations at the click of a button.
Interactive, Immersive Rooms for Healthcare Education
When using healthcare simulation to give learners the vital experience they need to become safe, skilled and confident in healthcare. There are multiple elements that need to be brought together in a structured but memorable experience.
Here at Gener8Healthcare are committed to giving you a perpetual vehicle for the future to bring immersive simulation experiences together with interactive learning.
Augment Your Team Environment
Unlike using Virtual Reality Headsets. Students and faculty can still interact with each other. Communication and awareness of surrounding is still possible. There is also the ability to use current simulation tools and real clinical equipment. This is about the team working together.
Immersive rooms fantastic for a diverse range of training environments from real-world locations to emergency rooms, all preparing students for real-life situations.
Content is key. It is our mission to create curriculum based content for pre and post registration scenarios and protocols in "best practice" and "acute care situations".
100% INTERACTIVE ENVIRONMENTS
Interact with every surface and asset, move, resize, touch and manipulate with pinpoint accuracy.
UNLIMITED SCENARIOS
Easily creating and editing your Gener8 immersive space exactly how you want. The only limit to the room is your imagination.
EASILY CREATE EXPERIENCES
Once created they are fully customizable. Everything from emergency situations scenarios to alien worlds scan be created.
Any hazardous emergency situation can be simulated in a safe environment. Hospital wards, doctors rooms, operating rooms even full wings can also be simulated. Our Gener8 immersive spaces enable simulation of intricate scenarios without putting any team members in harms way.
The easy-to-use drag and drop software enables you to take complete control of your simulation, transforming your training room into a fully immersive touch enabled experience. You have complete creative control to build environments will enhance your simulation experiences by simulating high pressure, real-world scenarios.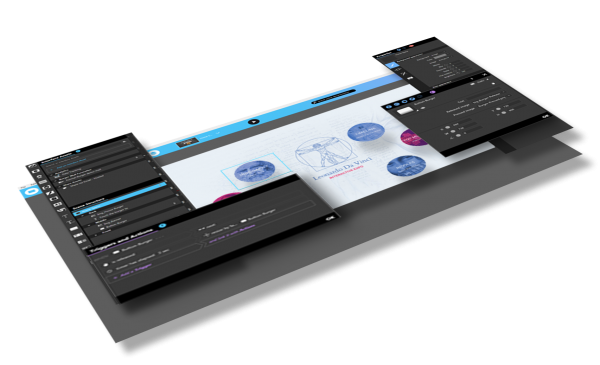 Create Without Coding
Unleash your creativity with a modern editor free of template constraints. Tell a story built specifically for interactivity and never write a line of code.
Use All Your Media
Include your own images, videos, documents, websites, 3D models, maps and more! It's your content and all of it is automatically interactive.
Interact With Touch & More
Use the latest interactive technology. Multi-touch, yes, but also RFID/NFC, beacons, Web APIs, sensors, the Internet of Things, and more.