The Ultrasound-Guided Fascia Blocks Simulator
BlockSim™ has been designed in order to meet the training needs in the field of ultrasound guided regional anesthesia allowing the visualization of the anatomy of the region of interest, giving information about the needle pathway to the target and testing the user ability to identify the structures. This simulator allows the visualization of the needle tip as it is passing through the tissues, the confirmation of the alignment with the desired path and a continual visualization of local anesthetic solution delivery to optimize local anesthetic distribution.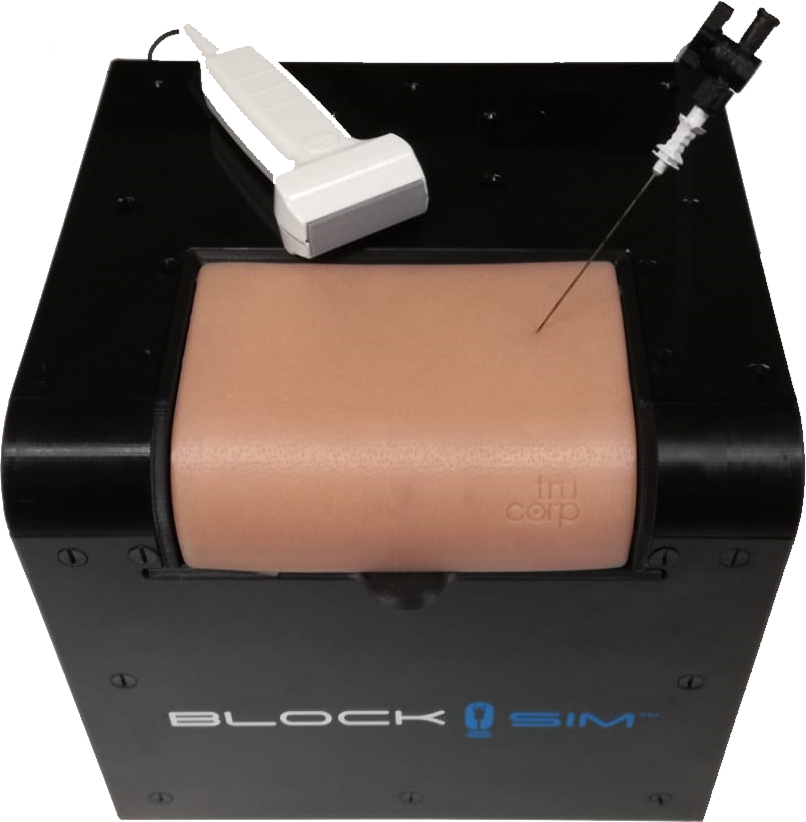 The simulator is equipped with 3 very realistic ultra-durable tissue inserts, including traditional anatomical landidenmarks and fascia layers that provide precise tactile feedback to the user while he's inserting the needle as well as the feel of the typical fascial "pops".
The BlockSim™ is composed by a lightweight, compact and easy to store black box equipped with high fidelity sensors that allows the positioning of the desired tissue insert based on the requests of the clinical case selected. The black box also connect with a simulated linear ultrasound probe and a real regional anaesthesia single shot needle that can be freely moved in different directions allowing the user to investigate the target and to choose the proper entry plane for the needle. Simulated injection of the local anaesthetic driven by a real syringe is also allowed as well as the visualization of local anaesthetic solution delivery to ensure proper distribution.
Thanks to the BlockSim™ software, the user can practice and develop competency using simulation scenarios based on real clinical images. The available 9 different cases take into account the proper movements to reach the target, the avoidance of unintended structures, the time to finish the procedure and the disposition of the local anaesthetic injected. At the end of the procedure, for each clinical case, a global score is provided to the user based on his performance.
BlockSim™ represents the new generation of regional anaesthesia simulators since it allows the use of real needles, the puncture of extremely realistic tissue inserts and the inflation of the anaesthetic fluid without generating needle tracks or damages.
1 BlockSim™ sensorized main black box
1 Simulated Ultrasound Linear Probe
1 Sensorized Needle Holder
1 Real regional anaesthesia single shot needle
1 Syringe
1 Abdominal Tissue Insert (PAD A) for transversus abdominis plane, quadratus lumborum (QLB) and lumbar blocks
1 Pectoralis tissue insert (PAD B) for parasternal, pectoralis nerve blocks (PECs I and PECs II) and serratus plane blocks
1 Spinal Tissue Insert (PAD C) for paravertebral and erector spinae plane (ESP) blocks
1 Laptop PC with pre-installed BlockSim™ software (9 clinical cases)
1 LCD 21,5″ monitor
User Manual
Installation support and remote training
1 year hardware warranty