Software tools designed to work with standardized patients and/or with 'paper' clinical cases
DxR Clinical Competency Exam (CCX) software
The Clinical Competency Exam (CCX) software is an integrated suite of tools for examining and evaluating a students' clinical reasoning process. CCX can be used at all levels of student expertise. Diagnostic exercises can begin with a printed form of patient information, a DxR Clinician case, or a Standardized Patient encounter. CCX works with them all.
CCX collects input from the student and automatically compares details of his or her reasoning process with the instructor's standards. Instructors reviewing student records find knowledge gaps and remediation needs.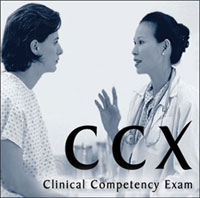 The CCX software is designed to help you with every aspect of creating, delivering, and evaluating performance-based exams.
The Case Editing/Authoring Utility is used to create the answer "key" for the CCX exam, using instructor-selected case evaluation criteria.
The CCX Exam allows the user to document findings, list patient problems, create a differential, order labs, justify lab requests, interpret lab results,enter final diagnoses, create a management plans, and answer content knowledge questions.
You can prompt students to narrow their original Differential list, and then support each of their final diagnoses with findings from History, Physical Exam, and Lab results.
The Student Activity Record Utility allows instructors to see an overview of individual student performance in association with overall group performance. Most important, the Record Utility provides a detailed breakdown of users' performance on specific criteria or tasks, including performance categories, such as Data Collection and Data Interpretation.
When a Standardized Patient is used, instructors can use the SP Utility to create checklists that can be used not only to capture patient satisfaction levels, but also to obtain information about the student's success in conducting the patient interview and/or physical examination.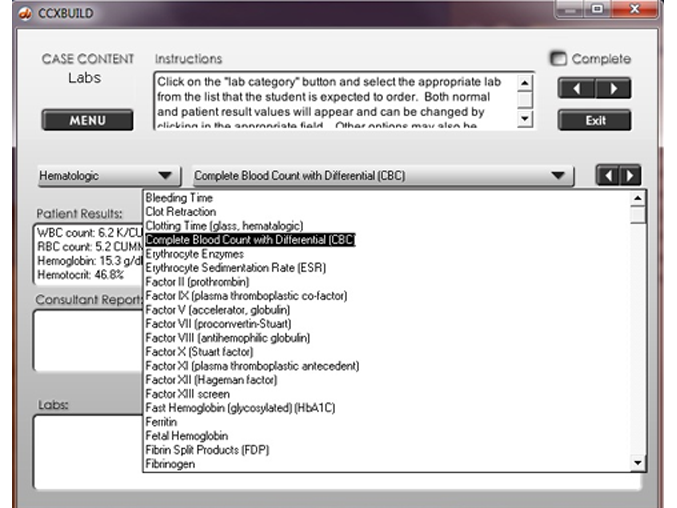 Criteria and Peformance Utility
The Criteria and Performance Utility allows faculty to enter the case content and scoring criteria for each section of a CCX Exam.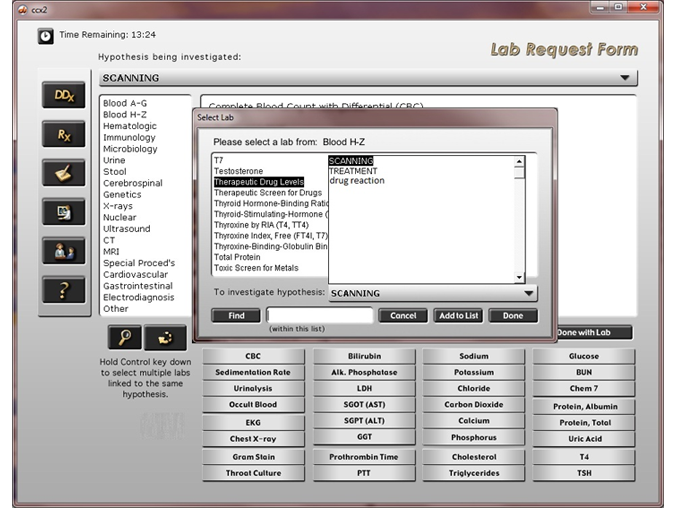 Labs

The Lab screen in the CCX Exam allows students to select from a large database of laboratory tests as they conduct their clinical investigation.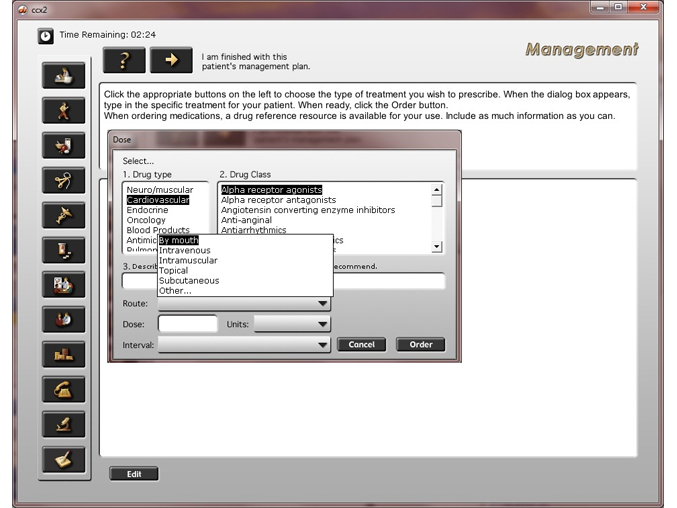 Management

The CCX Management screen allows students to select treatment orders for the patient in the CCX Exam.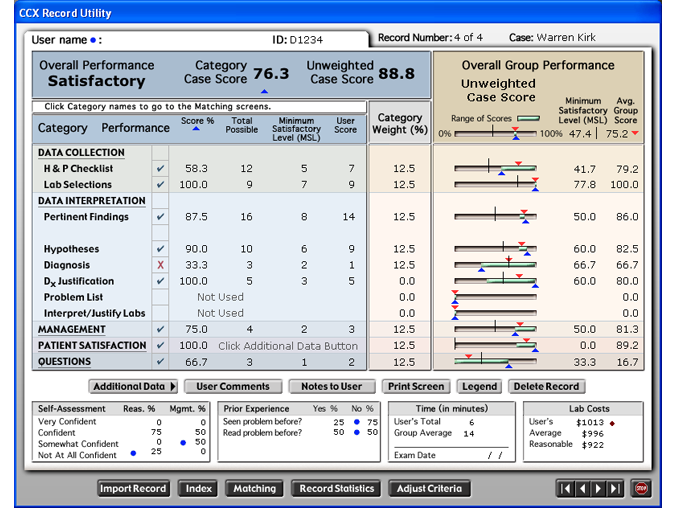 The Student Record Screen in the Record Utility provides a snapshot of how the student performed in various tasks in a CCX Exam.
This video shows how to work through a patient case using the Clinical Competency Exam (CCX) program.
The CCX Software includes a broad range of features for faculty, some of which include the ability for instructors to:
Create customized performance-based examinations designed to meet the objectives and evaluation requirements of your curriculum
Review and analyze student performance, utilizing built-in matching and scoring functions
Display user performance data in a way that makes it easy to identify strengths and weaknesses in the student's clinical practice behavior
Access many more features that are included in this multi-faceted performance-based software package.
"The CCX Program helped prepare me for the USMLE Step 2 CK (Clinical Knowledge). This program is an excellent prep tool. I have never been more comfortable taking an exam as I did Step 2 CK because I had been using CCX since the first week of medical school."