Enhance Learning and Evaluate Critical Thinking for Nurses
15 online virtual interactive patients covering a variety of clinically common nursing issues
Students train the overall nursing process through Problem-solving exercises
Contains NANDA * Nursing Diagnostics Database
An effective scoring system that quantitatively and qualitatively assesses students 'ability to solve problems and identies students' strengths and weaknesses
Allow to choose from NIC / NOC * nursing grading system module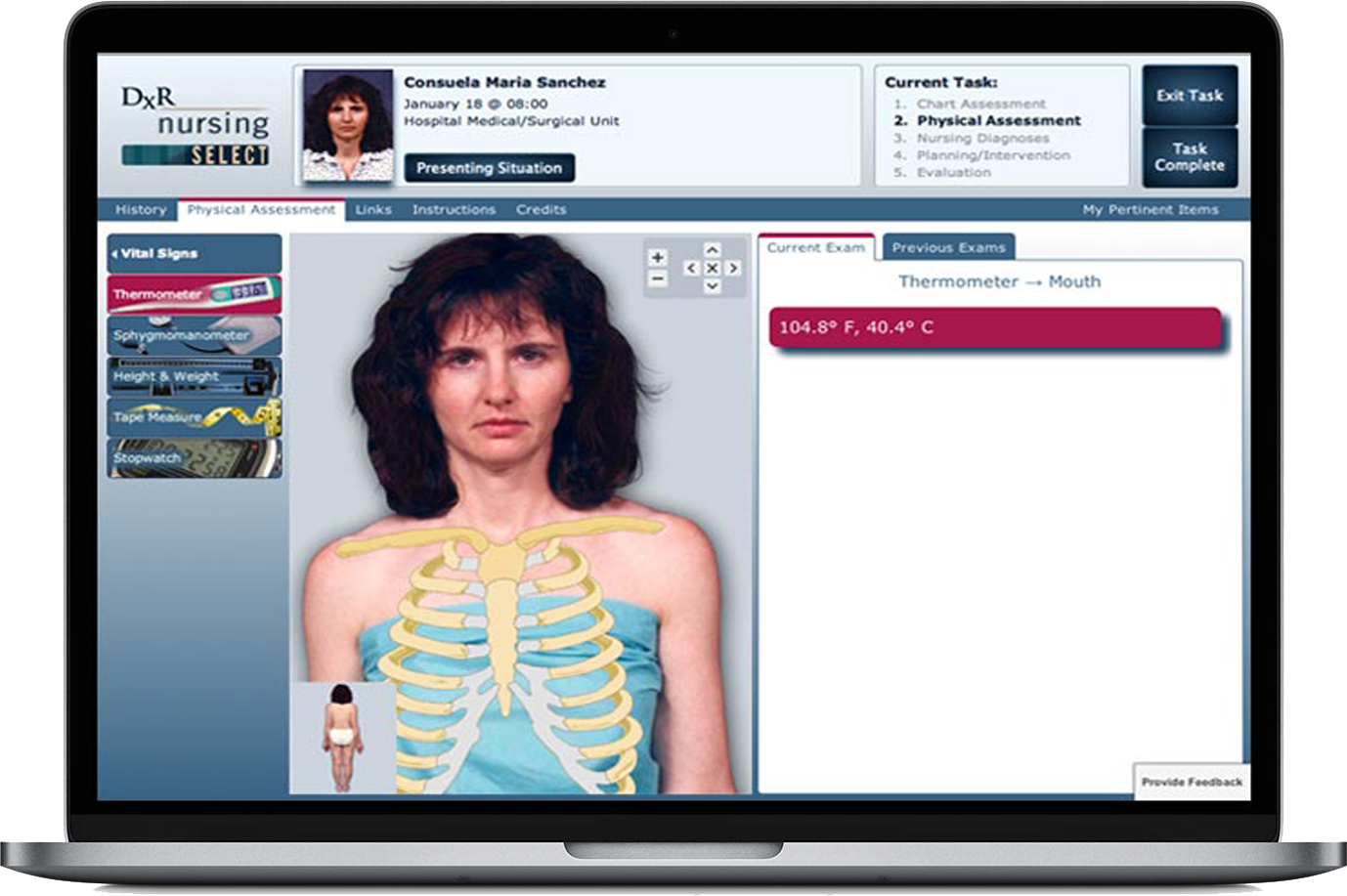 DxR Nursing Select is an essential tools for
training up nursing performance
Nursing is full of critical decisions. To make them, nurses need clinical reasoning skills they can't learn from textbooks. That's where DxR Nursing SELECT offers them an edge. Virtual patients bring the process to life, allowing nursing students to assess, diagnose, develop care plans, and evaluate client progress, with real-time feedback and scoring to hone their skills.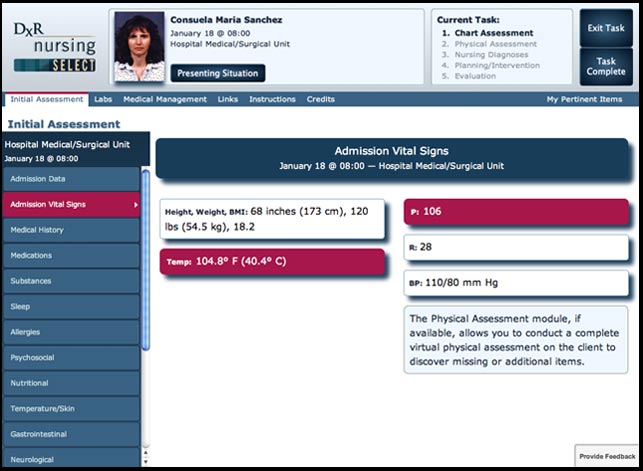 Chart Assessment
Students interact with
an electronic chart to identify pertinent client data.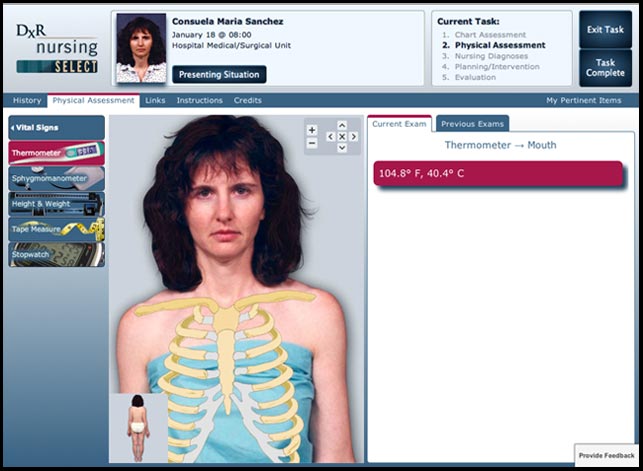 Physical Assessment
Students apply physical exam "tools" to the patient's picture to conduct a virtual physical exam and gather data needed to select nursing diagnoses.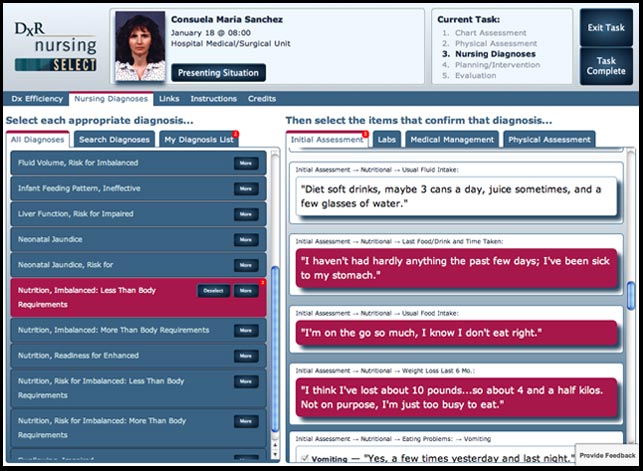 Nursing Diagnosis
Students use the data from the chart and the physical assessment to develop a list of the client problems, selected from the complete database of NANDA-I Nursing Diagnoses.*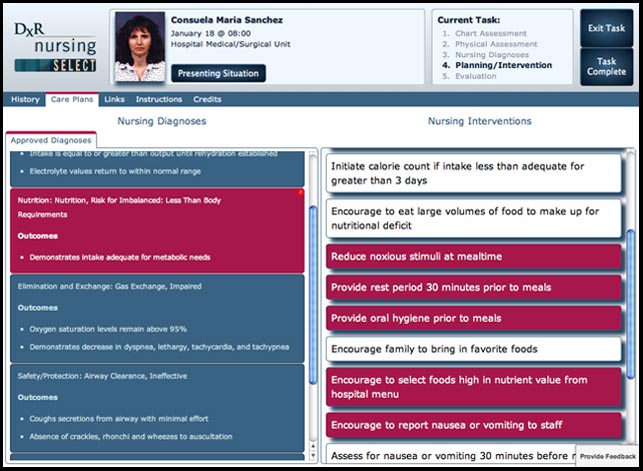 Care Planning
Students develop a care plan by reviewing the desired client outcomes and then selecting nursing interventions that would help the client achieve those outcomes.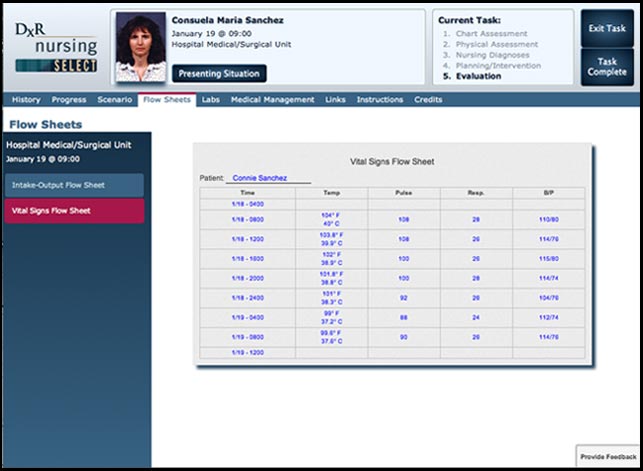 Progress Evaluation
After a period of "virtual time" students review updated client data, such as progress reports, vital signs flow sheets, and a recorded nurse/client conversation, to assess whether the client has shown progress toward the desired outcomes.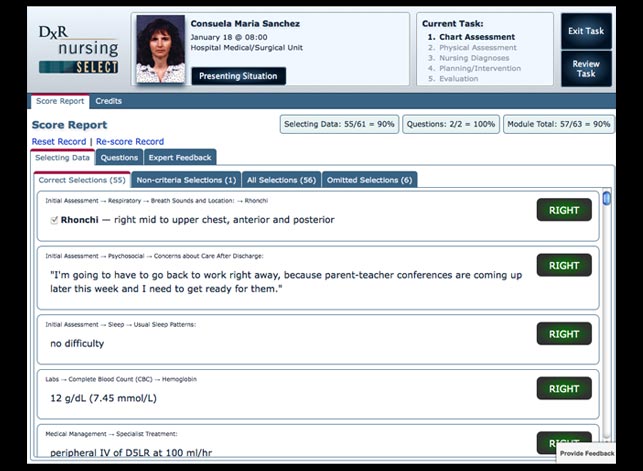 Student Score Reports
Decisions made by students in each section of a DxR Nursing SELECT case are compared to the criteria set by the case author to produce a score report, providing insight into the student's thinking in key areas of the nursing process. These detailed individual scoring summaries are also viewable by the instructor.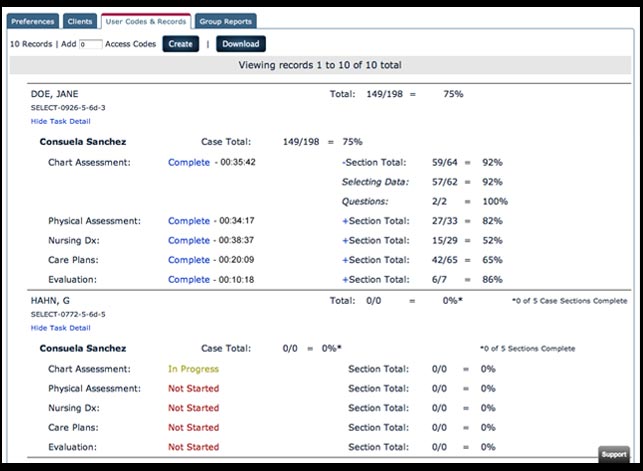 Instructors can see a snapshot of individual student performance as well as group performance statistics in each part of the case.
Watch the video to see how DxR Nursing SELECT can help your students develop critical thinking skills.
Cases include pediatric and adult health, medical/surgical, obstetrics, geriatrics, and palliative care
Automated scoring and reporting
Assign cases for individual or group study
Built-in tools for peer comparisons
Identify students who need you the most
Electronic chart with history, test results and orders
Complete virtual physical exam options
NANDA International Nursing Diagnoses*
Immediate feedback for self-study
Expert commentary on key issues
Compatible with iPad
*Nursing Diagnoses: Definitions & Classifications 2018-2020 © NANDA International, 2017 used by arrangement with Thieme Medical Publishers, Inc. a division of the Thieme Group. All rights reserved. Authorized translation from the English language edition published by Thieme Medical Publishers Inc.
"This Program guides today's nursing students, whether novices or experts, through the critical thinking process required of the next millennium nurse."